Lock-hole Processing Machine for PVC Win-door SSKC02-100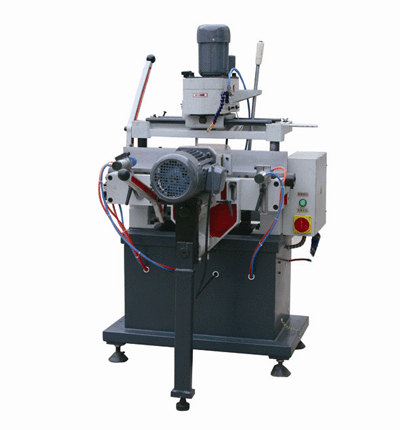 Structure feature:
This machine is made up of three-hole drilling machine and copy routing machine. Controlled by the operation pole, the copy routing feeler pole moves along the copy routing plate in the vertical direction, which drives the milling cutter to work as per the scale of 1:1; through gear case and controlled by the feeding handle, the electric motor drives the three special-purposed drills to drill three holes in the horizontal direction at the same time.
Function explanation:
The machine is used for processing all lock-holes and other hole-grooves of PVC door and window. With different copy routing plates, the machine can process different grooves with high speed; with the aiguilles it can drill the PVC profile embedded steel. With clamping once, the machine can complete milling and drilling continuously, which can also guarantee all of the position precision. It is with high efficiency and easy operation.
Technical parameter:
| | |
| --- | --- |
| Working air pressure£º | 0.4¡«0.6 MPa |
| Air consumption£º | 30L/min |
| Working voltage£º | 380V 50Hz |
| Input power£º | 1.1+0.75kW |
| Adjusting range of three-hole drill£º | 330¡Á85¡Á100mm |
| Copy routing range£º | 290¡Á90mm |
| Diameter of three-hole drill£º | ¦Õ12 |
| Diameter of milling cutter£º | ¦Õ5 ¦Õ8 |
| Dimension£º | 1000¡Á1130¡Á1500mm |
| weight£º | 260kg |